Siquijor
Enchanted Island of the Philippines
For any of you readers looking for a place to settle down into a magical slow moving lifestyle, you have to check out Siquijor. I have been living in Dumaguete City for the past six months , and though I love living here, I do miss the slow moving pace of REAL island living. It was only recently that I made the short 1 hour trip across the strait to this island steeped in magical mystery, and fell in love all over again with the Philippines.
Siquijor is a clean island with good roads and infrastructure(Power generation facility was recently refurbished), friendly people, and white sand beaches to rival Boracay, Bohol or Palawan. Though shopping and medical facilities are not in the same league as what you will find in Dumaguete, in Siquijor you can live the simple life with all that dumaguete has to offer just a short boat ride away.
There are dozens of resorts on the island from small simple backpacker type retreats to the amazingly extravagant Coco Grove.you will also find the same range in dining experiences with 100 peso meals by the sea or in one of the western style fine dining establishments in the pricier resorts.
Now the real kicker !! Land prices!!! cheap, cheap, cheap.
Anywhere from 100 pesos/sqm inland to 1,800- 2,000 for prime beachfront.
If you are enticed , check some of these properties out http://philippine-islandproperties.com/
or contact at http://gord@phiippine-islandproerties.com
SOME MORE FACTS ON SIQUIJOR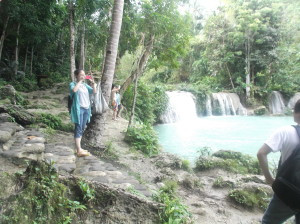 Siquijor is an island province in the Visayas. It lies southeast from Cebu and Negros across Cebu Strait (in some references called Bohol Strait) and southwest from Bohol.The island lies about 19 kilometres (12 mi) east of the nearest point on southern Negros, 25 kilometres (16 mi) southeast of Cebu, 30 kilometres (19 mi) southwest of Bohol, and 45 kilometres (28 mi) north of Zamboanga Peninsula of Mindanao. It is predominantly hilly and in many places the hills reach the sea, producing precipitous cliffs. At the center, Mount Malabahoc (locally known as Mount Bandilaan) reaches about 628 metres (2,060 ft) in elevation, the highest point on the island. Three marine terraces can be roughly traced especially in the vicinity of Tag-ibo on the southwestern part of the island, a barrio of San Juan municipality from the seacoast up into the central part.
Siquijor is a coralline island, and fossils of the giant clam, Tridacna, are often encountered in the plowed inland fields. On the hilltops there are numerous shells of the molluscan species presently living in the seas around the island. Siquijor was probably formed quite recently, geologically speaking. The ocean depths between Siquijor and Bohol and Mindanao are in the neighborhood of 640 metres (350 fathoms).
With a land area of 343.5 square kilometres (132.6 sq mi) and a coastline 102 kilometres (63 mi) long, Siquijor is the 3rd smallest province of the Philippines.
some excerpts courtesy of wikepedia.com
To plan your next trip to siquijor contact WPG Philcan Tours