Dumaguete City
My Philippines Home
Dumaguete city was not the Philippines that I initially fell in love with was the one of picture postcards. originally it was laid back island life on fine white sand beaches where living was simple and easy. After six months of living that dream, quite honestly I started going a little stir crazy. Being still in my early 50's and having kept busy all my life, the realization set in that I was not only too poor to retire but also too young to sit idly by and just watch life go by for another few decades.
For various reasons, the main one being a phone call from my Brother in law explaining in no uncertain terms that my wife's momma expected me to bring her daughter home and make an honest woman out of her, we packed up and moved to Dumaguete City. To be truthful, I was not immediately enamored with Dumaguete as at first glance it appeared not much different than any other small Filipino or Asian city with congested roads, crowds and the accompanying grime and grind of city living. Not really a whole lot different than I left behind in my native Canadian city of Calgary. However I was committed, and once I decided to make the best of it, my outlook on Dumaguete, "The City of Gentle People" changed dramatically.
What I soon came to appreciate was that Dumaguete City had the best of all worlds. Putting aside that I would not ever have to endure the -30 degree celsius Canadian winters anymore, I also saw that though Dumaguete was a city, its relatively small size meant that a 15 minute drive in any direction would take me to the countryside where the immense natural beauty of both the Negros Oriental Coastal Mountains, and the marine paradises off the Negros coast could be explored and enjoyed to my hearts content.
As I have continued to live here for close to two years now, I have seen the true attraction of living in Dumaguete City lies in its ability to meld together the best of the raw natural wonders of the Philippines with access to all the modern amenities that a westerner like me has come to depend on.  The amenities include a modern shopping facility, Robinson's Mall, complete with cinemas showing all the new release movies ( with a second one, City Mall, currently under construction), first rate medical facilities at Siliman Medical Center, plenty of decent restaurants (both sit down or fast food chain varieties), numerous well respected primary and secondary education institutions, and some decent nightlife of both local and more western flavors.
The Boulevard of Dumaguete City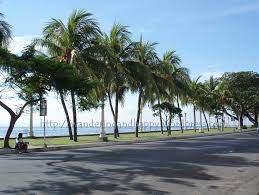 Another real attractive plus is the extensive expat community here in Dumaguete City. Though I have fallen in love with the Filipino people and their culture, the reality is that I am a westerner and that I desire to spend some of my time around people that I can relate to and who understand me. Places like Cebu, Manila or Davao may have more expats in numbers, due to Dumaguete's smaller population overall, the ratio of expats is higher.
So as it stands now, I am very happy with my choice of making Dumaguete City my home. It has all the amenities a westerner like me is used to while allowing me a quick escape to the raw beauty that drew me to the Philippines in the first place.
To find out more information about Dumaguete City, check out the DumagueteInfo website